St. Nicholas Orthodox Church was founded in 1893, at the request of the local Tlingit community. Constructed locally by Tlingit people and Serbian miners in 1893-94, the church was built on land donated by Yees Ganalax and using plans and funds sent from Russia. Furnished, decorated, and outfitted by generous gifts from the Russian Mission Society, the church was consecrated by Bishop Nikolai (Ziorov) in 1894, the church has been a fixture of the Juneau community and landscape ever since.
We invite you to browse the site and share our joy, vision, and hope; all rooted in a firm faith in our Risen Lord, God, and Savior Jesus Christ.  
If you are in Juneau, we invite you to join us each week as we worship the Holy Trinity in spirit and in truth.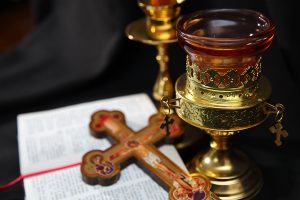 St. Nicholas Orthodox Church relies on generous donations from people like you to continue to keep our doors open, and we greatly appreciate your financial gifts.
Tax receipts will be issued for all eligible donations.
Our chosen vendor is Tithe.ly., which allows you to safely, securely, and conveniently make your donation with a credit card. Visa, MasterCard, and American Express are accepted.
Make a one time gift, or set up a regular donation.
Please take a moment to make a difference by clicking below:
Saturday
5:00 pm – Vigil
(Confession Following)
Sunday
9:40 am – Third and Sixth Hours
10:00 am – Divine Liturgy
Feasts & Weekday Services
See our Calendar page for more details on Festal services.
The Orthodox Church has a 2000 year history with a deep and rich theology.
Learn more from Fr Thomas Hopko's The Orthodox Faith and on our own website's About Orthodoxy page.