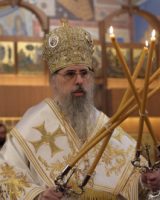 Bishop Alexis of Bethesda
Locum tenens of the Diocese of Sitka and Alaska
Upon the repose of His Eminence, the Most-Reverend DAVID, on November 27, 2020, Metropolitan Tikhon appointed the Right Reverend Alexis, Bishop of Bethesda to be the locum tenens of the diocese of Sitka and Alaska. AXIOS!
Bishop Alexis has been the administrator of the Diocese of Alaska upon the recommendation of Archbishop David since October 2020. It was Archbishop David's last act for us. 
Bishop Alexis' First Letter to the Clergy and Faithful of the Diocese of Alaska is available here.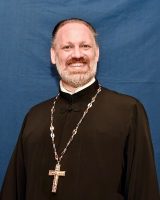 Rector - Priest Simeon B. Johnson
Fr. Simeon B. Johnson was born and raised in Colorado. He Attended Englewood High School and received a B.A. in Political Science from the university of Regis in Denver Colorado.
He converted to Orthodoxy at St. Herman Orthodox Church in Littleton Colorado on Lazarus Saturday 1997 and was tonsured a reader in 2001. In 2007, at the suggestion of the Very Rev. Joseph Hirsch at Transfiguration Cathedral, he and Matushka Beth matriculated to St. Vladimir's seminary, where Fr Simeon was ordained to the Diaconate in 2009 and to the Priesthood on May 23, 2010.
Graduating with an M.Div in 2010, Fr Simeon was assigned to Juneau, where he served from 2010-2012. In 2012, Fr Simeon was relocated to Calhan Colorado, where he served at St. Mary's Holy Dormition Orthodox Church in Calhan from 2012-2017. In 2018, he was assigned to Holy Theophany Orthodox Church in Colorado Springs, Co, where he served until December 2019, when he was released from the Diocese of the West and reassigned to St. Nicholas Orthodox Church in Juneau.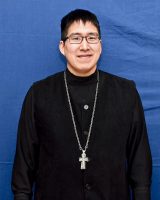 Dean of Sitka & Southeast Alaska
Fr. Ishmael Andrew is the Dean of the Sitka & Southeast Alaska Deanery. He serves at St Michael Cathedral of Sitka where he resides with his family.