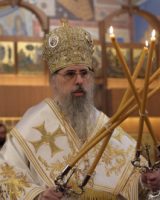 Bishop of the Diocese of Sitka and Alaska
Upon the repose of His Eminence, the Most-Reverend DAVID, on November 27, 2020, Metropolitan Tikhon appointed the Right Reverend Alexis, Bishop of Bethesda to be the locum tenens of the diocese of Sitka and Alaska. AXIOS!
Bishop Alexei was appointed administrator of the Diocese of Alaska upon the recommendation of Archbishop David since October 2020. On March 15, 2022, he was elected as Bishop of Sitka and Alaska and was enthroned at Saint Innocent Cathedral, Anchorage, AK, on March 27, 2022, formally taking the name of Alexei.
Bishop Alexei's First Letter to the Clergy and Faithful of the Diocese of Alaska is available here.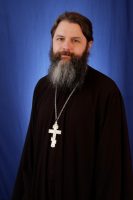 Fr. Maxim Gibson and his family come to St. Nicholas Russian Orthodox Church in Juneau from Denton, TX via Norfolk, VA. Fr. Maxim holds a Master of Divinity degree from St. Tikhon's Orthodox Theological Seminary in South Canaan, PA. After completing his studies at St. Tikhon's, Fr. Maxim served as Rector at Dormition Orthodox Church in Norfolk, VA.
Fr. Maxim is grateful to be serving our Lord and His Church in Juneau, AK, where the saints have prayed and labored in North America. He says it is a blessing to follow in the footsteps of the Tlingit faithful who first labored for the building up of God's house in Juneau, who have filled it with prayer for the past century and more, making St. Nicholas Russian Orthodox Church a beacon of God's Kingdom where the Good News of Jesus Christ is proclaimed to all nations. Come and pray with us!