Western notated sheet music for worship in the Orthodox Church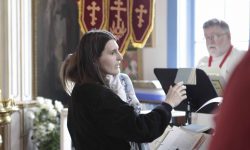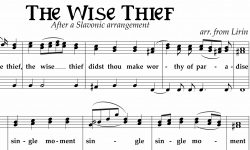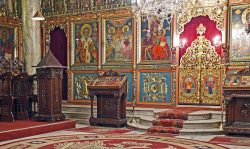 Since 2005, and at the suggestion of Fr. Eugene Tarris, Fr. Simeon and Matushka Beth have been setting and restoring sheet music for the Orthodox Church. They have inherited the liturgical music collection of Fr. Eugene and Matushka Sonia Tarris and are in process of restoring it and modernizing the handwritten scores. They have been been generous enough to  post their collection here. If you have handwritten sheet music you would like typeset, please
e-mail Fr. Simeon
.
Vespers
Beginning with the Saturday evening Octoechos and including multiple prokeimena settings, Vespers music is found here.
Matins (Orthros)
Whether served as part of Vigil on Saturday or the eve of a feast, or served alone on Sunday morning, Matins music is here.
Divine Liturgy
From Antiphons, Prokeimena, the Anaphora, and the Dismissal. Sheet music for the Liturgy is here.
Litanies
One of the easiest ways to add depth to the musical sounds of your services is through the litanies. There are a number of styles here.
Compline
In the Russian tradition, the Nativity, Theophany, and Annunciation vigils all begin with Great Compline. many of the fixed portions of Great Compline are also used with the Great Canon of St. Andrew during Lent.
Great Canon of St. Andrew
The Great Canon of St. Andrew is sung during the first week of Lent and again on the Fifth Week of Lent. Sheet music in the Russian Tradition can be found here.
Paschal Sheet Music
Paschal music brings the celebration of our Lord's Resurrection to life and gives the services shape and joy. We offer our Selection of Paschal Troparia and other Paschal sheet music here.
Sheet Music for the Menaion
We focus this section on liturgical Sheet music from the Menaion, specializing in the North American Saints. Most of what we present her is set in less common chant styles and melodies, such as Valaam Chant, Znamenny Chant, and Alaska's native Kuskokwim Chant.
The Lenten Triodion
With permission from St. Tikhon's Monastery Press, Fr Simeon and Matushka Beth have set large portions of the Lenten Triodion, as translated by Mother Mary and Kallistos Ware, to sheet music according to the Russian tradition. Featuring Obikhod/Common chant melodies, special melodies, and the weekday prokeimena, this is a valuable resource for choirs.