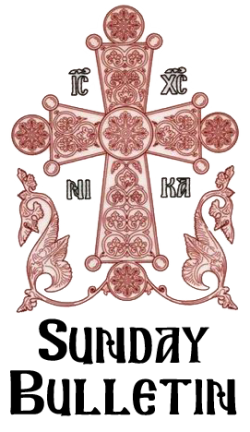 Holy Week & Pascha Schedule 2021
Palm Sunday, April 25
9:45 am – Hours and Liturgy of St. John Chrysostom
5:00 pm – Bridegroom Matins
Great & Holy Monday, April 26
6:30 pm – Bridegroom Matins
Great & Holy Tuesday, April 27
6:30 pm – Bridegroom Matins
Great & Holy Wednesday, April 28
2:00 pm – Coloring Red Eggs for Pascha at the Parish Hall
5:00 pm – Confession
6:30 pm – Holy Unction
Great & Holy Thursday, April 29
9:00 am – Vesperal Liturgy of St. Basil the Great. Followed by Confessions
6:00 pm – Matins & 12 Passion Gospels
Great & Holy Friday, April 30
2:00 pm – Vespers, Removal of Christ's body from the Cross and its burial. Confession follows.
3:15 pm (following Burial Vespers) – Decorate Christ's tomb with flowers & prepare Epitaphion flowers.
6:00 pm – Matins of Holy Saturday
Great & Holy Saturday, May 1
9:00 am – Vesperal Liturgy of St. Basil the Great. Confession.
11:00 am – Agape meal (wine and bread).
11:30 pm – Nocturne Service followed at Midnight by the Matins & Liturgy of Pascha.
Sunday, May 2 – PASCHA/EASTER
12:00 am – Paschal Matins & Liturgy of St John Chrysostom, (followed by blessing of baskets & pot-luck)
1:30 pm – Paschal Vespers, blessing of Paschal Baskets. (followed by Pot-luck & Picnic)
Social Distancing requirements per CBJ code
St Nicholas Orthodox Church is open without the need to sign up in advance.
If you attend, please remember the following:
The City and Borough of Juneau's mask mandate is still in force
We are still practicing Social Distancing
We are still asking everyone to sign the contact sheet when coming to church
We are still broadcasting services to the YouTube Channel where we have also created some playlists for you to explore.
Live-stream broadcasts will follow the regular schedule found above and on our calendar page