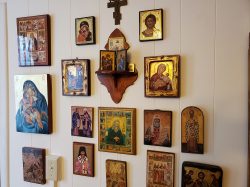 Fr. Simeon B. Johnson
April 5, 2020 (N.S)
Martyrs Agathopodos the Deacon, Theodoulos the Reader & their companions
---
During the COVID-19 crisis that has closed all of our church to the public, I hear a lot of questions asking how do we set up a "home church" like so many people are talking about. This is a good question and a good thing, because this home church is something that we should maintain after this crisis passes. We can do this with an icon corner or a small, unobtrusive home altar.
Setting up an Icon Corner:
It isn't hard to set up an icon corner, and is does not need to be so expensive that it is cost prohibitive or becomes a "thing" that distracts you from serving Christ the Lord as you try to build the biggest icon corner among your circle of friends.
You need, at a minimum, the following items:
An icon of Christ
A candle
An Orthodox prayer book.
A Bible that includes the "apocryphal" works (the Orthodox Study Bible is quite helpful)
That's it, the basic bare bones prayer corner for your house. As time and money permit, you may also add:
An icon of the Theotokos

One can buy or, if you are handy, make, a traditional "icon corner set" that has an icon of Christ, an icon of the Theotokos, and a place to set or hold a vigil lamp/candili or some other kind of candle.

An icon of your patron saint
A small censer and incense

Along with a place to set it where it will not start a fire.

A lectern/analogion or "home altar" table with an appropriate cover.
A hand blessing cross.
When you have the basics, you will need to establish your icon corner. In the Russian tradition, this icon corner was placed somewhere along the eastern wall of the house. If this is not practical due to your home/apartment's architecture, it is most important to remember that you are setting up a sacred corner of your home, a place for the family to gather in the presence of God every day.
Using the Icon Corner:
In the morning
After you have set up your icon corner, you will need to establish a DAILY spiritual routine. It doesn't need to be overly complex, but it needs to be consistent. It is the consistency of use that will help us grow in prayer and deepen our relationship to Christ. A master sculptor does not just do a little sculpting whenever he/she manages to find a bit of time. To be a master, a sculptor (or a weaver, or any other artist, for that matter), must work diligently at their craft EVERY day. Likewise, we need to work on our spiritual life every day. To grow in our spiritual life and master our prayer life, we must take the approach of a craftsman and strive to master our personal relationship with the Lord Jesus Christ every day.
I recommend a basic rule, of prayer in the morning:
When getting out of bed, place your feet on the ground, make the sign of the cross and bow three times towards the east saying "Glory to Thee, O God, Glory to Thee."
Come to your icon corner or home altar and light your vigil lamp/candili; also light your censer[1] if you have one.

As you light place the incense on the charcoal, say the Prayer of Incense:
"Incense we offer unto thee, O Christ our God, as a savour of spiritual sweetness which do thou receive upon thy most heavenly altar and send down upon us in return the grace of thine all-holy Spirit."
Say the prayer rule of St. Seraphim of Sarov (A printout of these prayers can be found here).

When you have Psalm 50 memorized, you can take a hand censer from room to room while saying the psalm, making the sign of the cross in each room and at each door and window of your home.[2]

Before you leave for work, or start your day, say the prayer of the Optina Elders ("Grant unto me, O Lord, that I may face all that this new day is to bring with peace of mind . . .)
That's it. Nothing complicated, but an important foundation of prayer to anchor yourself to God each day.
In the afternoon:
If you work away from the home, this can be difficult. If you do not, it is less challenging. If you work outside the home, extinguish the candle and put the incense out before you leave.[3] If you work at home, you may leave the candili lit and let the censer burn out. Just make sure to monitor your censer to make sure it isn't getting so hot that it sets any wooden shelves on fire while it burns out.
Throughout the day say, at a minimum, the "Our Father" three times. Make sure you do this before eating.
In the evening:
As part of your evening routine, light your lamp and say the rule of St. Seraphim again along with any private devotions and prayers that you want to say.
Read the daily lectionary selection from the Scriptures.
Say the Prayer Before the Gospel before beginning to read:

"Illumine our hearts, O Master who lovest mankind, with the pure light of thy divine knowledge. Open the eyes of our minds to the understanding of Thy Gospel teachings. Implant also in us the fear of Thy blessed commandments, that trampling down all carnal desires, we may enter upon a spiritual manner of living, both thinking and doing such things as are well-pleasing unto Thee. For Thou art the illumination of our souls and bodies, O Christ our God, and unto Thee we ascribe glory, together with Thy Father, who is from everlasting, and Thine all-holy, good, and life-creating Spirit, now and ever and unto ages of ages. Amen."

After reading the Scripture, review your day, from the time you woke until the time you have you evening prayers. Remember where you went, what you did and with whom, what you spoke about and all your deeds, words and thoughts. As you do this examine each hour of the day for the following:

Where did I find Christ in my community today? (Rejoice, this is from God)
Where did I bring Christ to my community today? (Rejoice, this is from God)
Where, in my dealings with the world, did I fail to be Christlike today? (Repent, and ask forgiveness)

Before going to sleep, make the sign of the cross and say "Glory to God for all things."
That, brothers and sisters, is it. This is all one needs to set up the oft spoken of "home church." In the next few days, I will be adding a series of reflections for engaging with the church's Feasts and Fasts along with this prayer rule.
Pdf Documents for the prayers:
---
[1]               The home censer is not a universal Orthodox custom. If you have one, be mindful of smoke alarms and fire. Keep a METAL can lined with sand near your home altar to extinguish the charcoal when you have finished praying, or remove the censer to a balcony until the smoke has cooled. Do not put a hot charcoal into the garbage!!!
[2]               If you do not have a hand censer with an insulated handle, this is not recommended. The censer can get too hot, causing you to burn yourself and drop the censer. Censing each room of your home is not important enough that you should risk burning your house down.
[3]               One should also be wary of smoke alarms, especially if one lives in a small apartment or anywhere with an automated fire alarm. If you set off the alarm and the fire department is called, you may end up being fined. Be mindful of your censer's placement and make sure it is properly extinguished.
The Home Church & an Icon Corner