First Letter from Bishop Alexis
To the Clergy and Faithful of the Diocese of Sitka and Alaska
November 23/December 6
Saint Amphilochius, Bishop of lconium
Beloved Clergy and Faithful of the God-protected Diocese of Sitka and Alaska,
May the blessing of the Lord be upon you through His grace and love for mankind always now and ever and unto the ages of ages!
Our father among the saints, Basil the Great, once wrote, "in this life we are all like travelers on a journey, hastening on to the same shelter. While one has reached his rest, another arrives as yet another hurries on. But one and the same end awaits them all" (Letter S to Nektarios). During these difficult days and nights of the pandemic, so many are suffering the pain of loved ones now beyond their reach in that shelter from which none return. And though comforted by the truth that in Christ, death is but a sleep, the loss and the pain are still very real. And for you, the precious flock of the Diocese of Alaska, there is another loss, that of your father in God and my brother and concelebrant, the ever-memorable Archbishop David of Sitka and Alaska.
Today is the ninth day since your Archpastor fell asleep in the Lord. It is the day that his soul joins the nine ranks of Angels, the Seraphim and Cherubim, thrones, dominions, virtues, powers, principalities, archangels and angels. For many years, Archbishop David has heard the Cherubic Hymn, "Let us who represent the Cherubim." Now, he is with them. Yes, we sorrow, but it is not a dark sorrow without any light. Saint John Chrysostom taught that "death is not death, but only a kind of emigration and translation from the worse to the better, from earth to heaven, from men to angels, archangels, and the One who is the Lord of angels and archangels" (Letter to a Widow). This is what Archbishop David believed. This is what he now experiences. And this is what we in this the diocese that he ruled believe as well.
Saint Isaac the Syrian teaches us that "Divine providence surrounds all persons at all times" (Ascetic Homilies 5:31). That watchful eye and tender hand of our Savior watches over all: over Archbishop David, over every man, woman, and child in this diocese, as well as over me, your newly appointed locum tenens. There is no chance meeting, chance encounter in this life, for every meeting is between souls created in the image and likeness of God Himself. I first met His Eminence when he was an older seminarian taking one of the classes that I, a much younger monastic instructor was then offering. Because of those classes so many decades before, His Eminence, invited me to make a pilgrimage to Alaska two summers ago and to give a talk for the clergy's continuing education. And so, I spoke on Isaiah and the clergy and they spoke to my heart.
I was also blessed to go to Spruce Island, that holy island that I believe may be the purest place on God's good earth. None of this was carefully planned by man, but it all seems to have been gently arranged by the Most High.
When His Eminence became ill and was unable to continue to bear the heavy weight of the diocesan Cross on his shoulders, he sought a Cyrene (Matthew 27:32) to help him bear that Cross a little longer. In my heart, I felt that it was God's will that I help my brother and my friend for a short while. His last official act as the Archbishop of Alaska was to request that His Beatitude, our Metropolitan Tikhon, appoint me as the administrator of the Diocese, a position that I have held now for a month. With his falling asleep in the Lord, His Beatitude has now appointed me as locum tenens. My presence with you, even from afar, is how Archbishop David desired to continue to watch over you, to care for you, and to love you.
As your locum tenens, I will pray for you, I will try to be there for you, I will do what I can, so that we can all be a bit closer to our Lord, a bit closer to His most pure Mother, a bit closer to all the Saints. And you, I ask that you pray for me and strive to hear what the Lord desires to say to you through me, His very imperfect vessel. Together, we have Christ in our midst. And with Christ in our midst, we can do all things through the One Who strengthens us. That gives us all reason to hope.
The Diocese of Alaska is now in a time of mourning and a time of transition. Mourning means remembering and finding ways to honor the memory of those we love. Transition means moving to another place and growing into other people. So the first task we have is to take the beautiful dreams that Archbishop David had for his clergy, for his faithful, and for his parishes and do whatever we can to turn them into a reality as firm as the Rock Who is Christ Himself. This will mean better supporting our clergy, so that they can better support and nourish their parish communities. This will mean better supporting our youth, so that they can grow into becoming loving servants of God that will allow their elders to rest peacefully. This will mean further beautifying our temples, so that they become heavens on earth where we can leave behind all earthly cares and be with God alone. This will require work, but any work done for the sake of Christ is sweet and brings blessings one hundred-fold. And in this way, we can worthily honor the memory of Archbishop David.
None of us know how long we will be on this earth. We all thought we would have Archbishop David with us longer, but that was not to be. I do not know how long I will be your locum tenens, but while I am, I will strive to do my best for all of you. Archbishop David's departure is a reminder that we must do whatever we can to keep God's commandments now while it is still day, to love Him now and our neighbor now, not just by our thoughts, but most importantly by our actions. And as we work, as we grow, as we try to love the Lord Jesus more, we will change, becoming people of greater faith, greater hope, and greater love.
I pray that this time of mourning for you will also be a time of hope. Keep the fast as a sign of mourning and look towards the nativity of Christ as the source of our true hope. Glorify Him even now by your lives and in so doing you will also be honoring the memory of your good Archpastor, Archbishop David.
With fatherly love in Christ and God's bountiful blessings,
+Bishop Alexis of Bethesda
Locum Tenens for the Diocese of Sitka and Alaska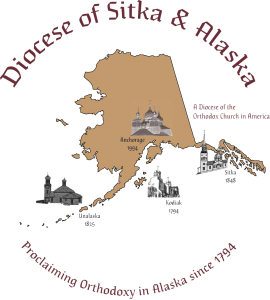 Letter to the Clergy & Faithful from Bp Alexis