Kulich / Pascha (Russian Easter Bread)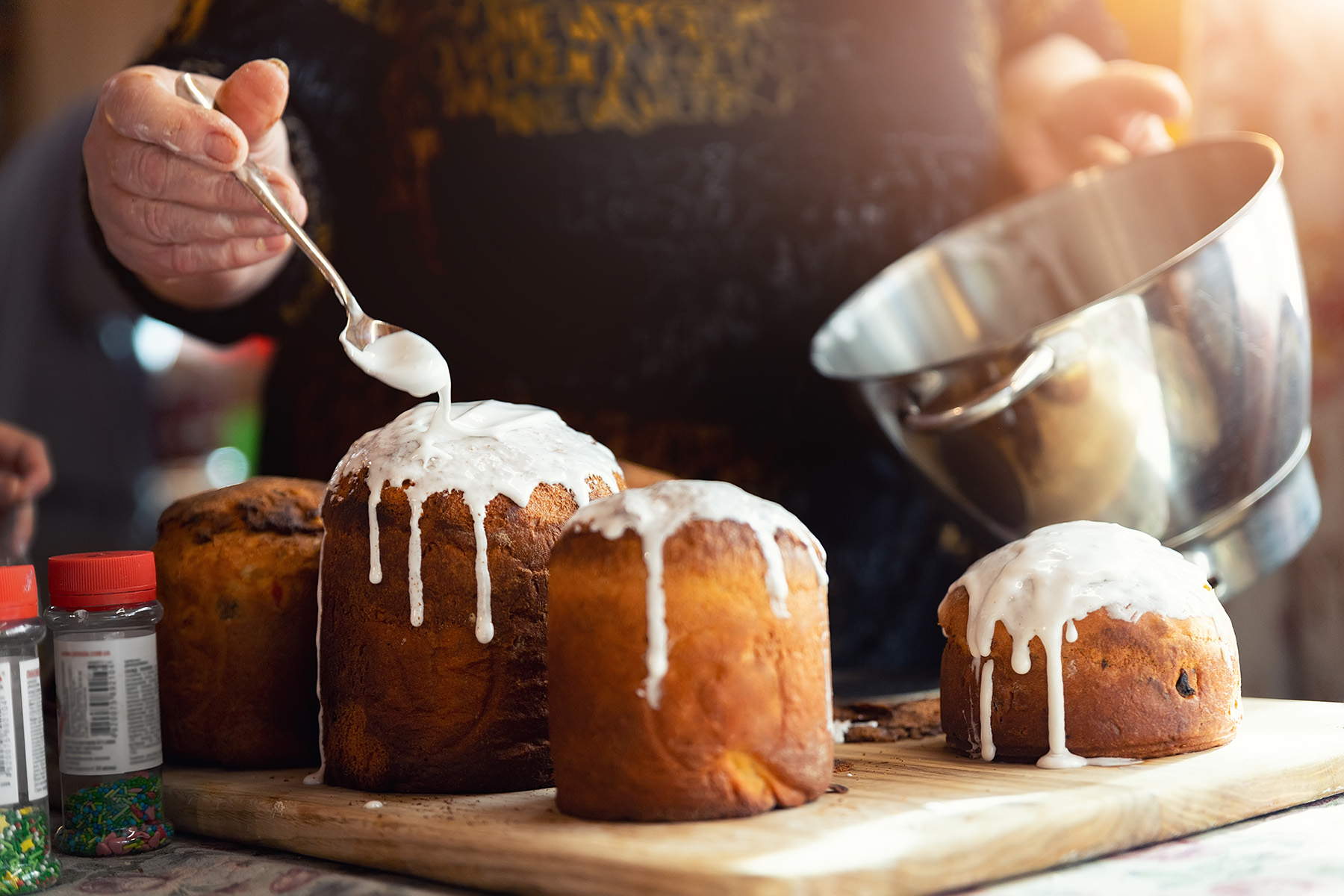 The Pascha bread, known in Juneau as "Russian Easter Bread," is a rich egg bread filled with raisins and decorated with frosting and candy.  It is traditionally round, and is symbolic of Christ, who is the true Bread of Life.  It is worth noting that in some traditions, the Pascha is the cheese, and bread is called Kulich, or in a Slovak dialect, kolac.
Fr. Simeon prepares a version of Kulich and is sharing it with us here:
Ingredients:
1 cup + 1 Tbsp. whole milk, scalded & Cooled to about 115 °F
2 eggs, room temp
1 packet active dry yeast
1 cup sugar
1 stick unsalted butter, melted & cooled
¼ tsp salt
¼ cup sour cream
½ tsp vanilla or

¼ tsp vanilla &
¼ tsp orange liqueur

4 ½ cups bread flour, divided
½ to ¾ cups golden raisins
Zest of one orange, grated fine
For the Frosting
1 cup powdered Sugar
1½ Lemon or Orange Juice
Equipment you'll need:
Coffee cans or Panettone paper molds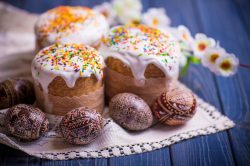 In a large Mixing bowl, whisk together warm milk, eggs, yeast, sugar, melted butter, salt, sour cream and vanilla and orange liqueur.
Whisk in 2 cups flour. Your batter will be thick like sour cream. Cover and let it rise in a warm place for 2 hours.
Add 2 ½ more cups of flour; one cup at a time or until the dough no longer sticks to your hands (it will still feel sticky but won't stick to your fingers). Dough should be soft.
Stir in the raisins and orange peel.
Cover and let dough rise another 2 hours in a warm place.
Place the dough into the paper baking; try not to mix it or stomp it down too much.
Let dough rise uncovered in a warm place for an additional 2 hours or until the molds are almost full.
Preheat oven to 350˚F.
Bake at 350˚F for 30-35 minutes in the middle of the oven until the top is golden brown. Let cool to room temp or just warm and then tear off the wrapper.
Once the Breads are at room temperature and wrappers are off, get your frosting ready.
In a medium bowl, whisk together 2 cups powdered sugar with 3 Tbsp. lemon juice. Add a little water if it's too thick or a little more powdered sugar if it's too runny.
Pour the glaze over each cooled Easter bread. Traditionally, these are topped with colorful sprinkles before the glaze sets.
Kulich / Pascha (Russian Easter Bread)