Sheet Music for Vespers in the Orthodox Church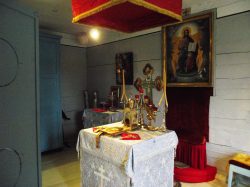 The Octoechos, or Paraklitiki, contains the variable texts for Orthodox services in all 8 Tones. in most parishes, Saturday Evening is the most frequently served Vesperal service and the Octoechos texts as they are sung here in Juneau are available here:
Saturday Evening Octoechos - Obikhod Chant
Little Litany after Blessed is the Man
Pious custom in the Orthodox Church in America often has Psalm 103 sung at Great Vespers. The following settings are long enough to allow a priest to say the Prayers of Light while the psalm is sung by the choir.
Evening Prokeimena, Complete Sets
Vespers Prokeimena for every day of the week
Evening Prokeimena, Saturday only
The Great Prokeimenon for Saturday Evening Vespers
Used for Vespers, Matins, or All-Night Vigil